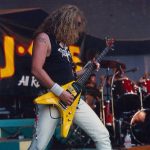 Do you remember ChildzPlay from the 80's? Their back, well, they've been back. They reunited to play Treefort in March. After 30 years it's all the original members, yes, the original players. See them Friday, June 9th at Mardi Gras. They are part of the 'Wake The Dead' 2017 show.
We will have a couple of the guys from ChildzPlay in the studio Friday morning to tell you all about the show and we'll have tickets for you as well.
I found an older video on youtube that I'm sure you'll recognize. Tickets are cheap, just $10.  You'll notice in the picture above he is playing in front of the old J105 logo.  J105 is back and so is ChidlzPlay!
See ya at the show