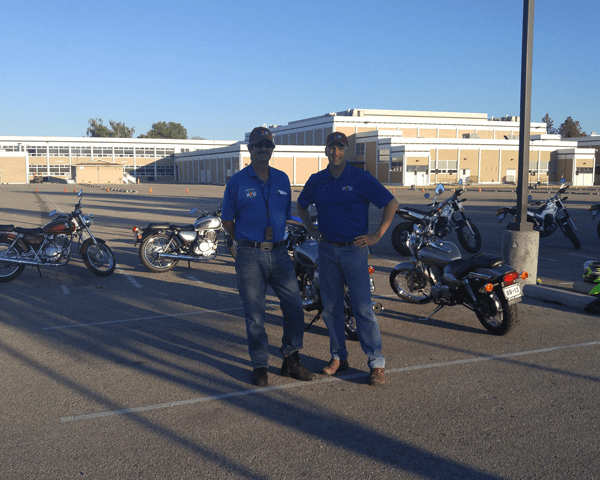 So, up until last weekend I had never driven a motorcycle.  Been on the back of plenty but never actually driven one myself.  I was scared, it's just my history.  I trust an experienced rider, so being on the back… No worries, but actually driving one..SCARED!  Out of my mind.
Ya see, my brother put down his motorcycle years ago when we were in college together.  It was months and months of surgeries, rehab, and now his right leg is mostly metal.  He functions just fine but it took years to get back to that.
This past weekend Sparks and myself took the Idaho Star Motorcycle Class and it was amazing. As someone who had never driving anything with two wheels and a motor.  They start off nice and slow, so even with zero experience you can still complete this course.  The instructors (pictured above) were great.  Encouraging and patient, both very well suited for their job.  The class was informative and fun, not just a bunch of orders barked at you.  The education I received made me feel empowered.  They have all different types/levels of classes. Anything from beginner to experienced.
As someone who was afraid to even try this. I walked away with a confidence that only trying something you truly fear can give you.  Your supposed to do something every day that scares you…  Now I understand why.  Not only did I learn that I loved it, I'm not half bad.  If you've been afraid to try to ride, you should try it too.  Most amazing experience I've had in a long time.